Businesses looking to benefit from the dawning Marcellus Shale natural gas boom in the region and individuals interested in finding jobs in the industry will want to stay tuned for more details on an event to be held in Coudersport over a two-day period in March.

The Potter County Commissioners' Natural Gas Task Force is teaming with several public agencies, educational institutions and energy companies to sponsor an employment and business expo March 17-18. It will held at the Coudersport Gospel Tabernacle complex along Rt. 6. In addition to employment, educational and business partnership opportunities, the expo will include demonstrations and displays of heavy equipment and other apparatus from the natural gas industry.
(Above, gas rig workers are hard at work at a Pennsylvania General Energy Company natural gas well tapping Marcellus Shale formations underneath state forest land near Cherry Springs State Park this past September.)
Employment and training will be the focus on March 17, with high school students attending in the morning to learn about natural gas industry employment opportunities and educational requirements. That afternoon, adults who are seeking jobs in the industry or seeking to learn more about training opportunities will be welcome.
On March 18, the theme will be "business to business." Business owners and others seeking to capitalize on the anticipated influx of natural gas companies through 2010 and beyond will be invited to attend the expo to make connections with industry representatives and learn more about opportunities.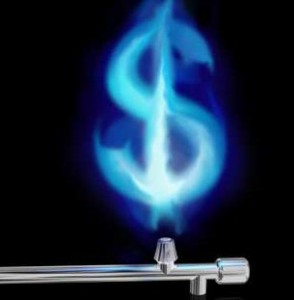 Additional details on the expo will be presented during the next Potter County Natural Gas Task Force meeting, scheduled for Tuesday, Dec. 8, at 7 pm in the Gunzburger Building.
That meeting will also include a presentation from Mark Smith, chairman of the Board of Commissioners in Bradford County, where job opportunities have grown and businesses have prospered as energy companies deepen their presence to tap gas reserves found in Marcellus Shale. Tuesday's meeting is open to the public. Potter County Today