Local Natural Gas Expo Draws Estimated 3,000 People
Potter County Today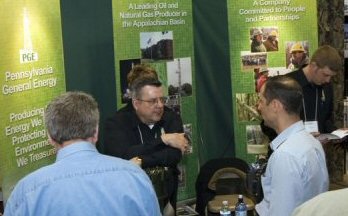 Organizers of the successful tri-county Natural Gas Expo held this week in Coudersport will be meeting soon to assess the event and discuss follow-up options. Anyone who was skeptical about the far-reaching impact of Marcellus Shale natural gas production was singing a different tune after the Expo.
An estimated 3,000 people passed through the sold-out display areas at the Gospel Tabernacle grounds, the majority of them seeking employment and training opportunities, or business connections. Energy companies and the many ancillary businesses that connect with them for drilling, production and transportation are bullish on Potter, Cameron and McKean counties, with ambitious plans to tap into rich pools of gas trapped roughly 7,000 feet underground in shale.
A development phase is expected to last for a decade or more, resulting in thousands of jobs and a significant impact on the region. For more than a quarter-century to follow, experts say, steady gas production will bring big financial returns to mineral rights owners and send a ripple effect through the economy.
More than 500 high school students attended to learn more about careers and educational opportunities. People from nine states and dozens of Pennsylvania counties rented vendor space. Another 40 applicants had to be turned away.
Seminars included water resources and gas drilling; marketing local businesses to the gas industry; poly tanks; and obtaining servicing contracts with gas companies. Above, Bruce Sampson discusses careers and business partnerships at the Pennsylvania General Energy booth. A booth from the Clearfield-based Land & Mapping Services is shown at right.
(Photos by Curt Weinhold)