Open House Today At Christmas House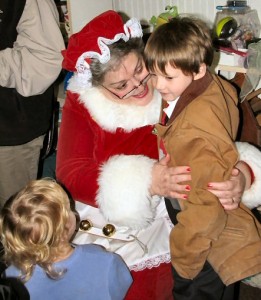 It's time for another "season of miracles" at Potter County's Christmas House. During an open house scheduled for 11 am to 6 pm on Thursday (today, Nov. 8th) members of the public can meet the volunteers and view their handiwork, enjoy complimentary soup, sandwiches and snacks, and show their support for the organization that annually helps hundreds of the less fortunate. Christmas House is located at the corner of Water and Main Street in Coudersport. Santa Claus plans to drop by the open house from 4:30 to closing.
Known as "the place where miracles happen," Christmas House is all-volunteer agency that depends on the generosity of individuals, businesses and organizations to fulfill its mission. It's open nearly year 'round as a local charity helping to meet the needs of those in desperate circumstances. But the volunteers move into high gear this time of year to distribute hundreds of Christmas gifts all over the county. Social service agencies and school nurses are asked to provide the names of children in need for the holiday season no later than Nov. 15. Referrals from individuals are also welcome by calling 274-0825 on Mondays and Tuesdays from 9 am to 2 pm. Individuals from the northern Potter County area (Genesee, Ulysses, Harrison Valley) should call 334-5212.