More Tourists Coming To 'Wilds,' Study Finds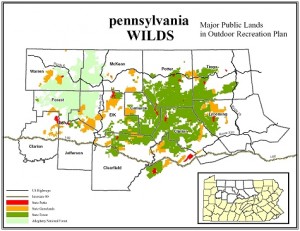 The 13-county Pennsylvania Wilds is seeing a growing number of tourists annually and they are spending more each time they visit. According to a study conducted by North Star Destination Strategies, visitors spend roughly $250 each time they visit, resulting in close to $19 million in tourist revenue.
Nearly 900 visitors were polled on a wide variety of topics. A large majority (87 percent) said they are very likely to return. Among the assets attracting them the most are hiking, fishing, relaxation, a clean environment and wildlife. Twelve percent said they came to the Wilds to hunt. A majority said they came for outdoor recreation. Next most popular motivation was "a family get-away." Among others were visiting with family and friends, riding motorcycles, viewing wildlife and riding all-terrain vehicles.
An increasing number of visitors are choosing to spend at least one night in the region. Of those, 27 percent stayed in a cabin or rental property, while 26 percent stayed at a hotel or motel and 23 percent at a campground.
"More people are choosing to travel to places where there are natural attractions and more peace and quiet," said Potter County Visitors Association executive director David Brooks. "People are looking for alternatives to the 'big vacation.' They're looking for experiences that get them away from the hustle and bustle."