Underground Injection Wells In Potter County?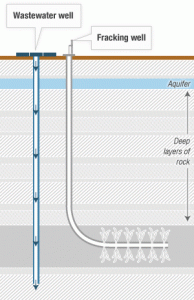 Potter County could be an attractive location for a series of injection wells to dispose of polluted water produced from gas drilling

, according to a federal environmental official. Karen Johnson, underground injection control program manager for the U.S. Environmental Protection Agency (EPA), made her comments during a meeting of the County Commissioners Association of Pennsylvania's Natural Gas Task Force.
Responding to questions from Potter County Commissioner Paul Heimel, Johnson said she had reviewed a large-scale plan — which was later shelved — that called for establishing dozen of injection wells in the county. While that project has been scrapped, Johnson said it's probably just a matter of time before companies target Potter County. Depleted and unproductive wells are attractive locations for brine disposal, Johnson pointed out, and Potter County has many locations that could qualify.
Companies are seeking EPA permits for injection wells in Elk, Clearfield, Warren and Venango counties as the drilling industry seeks alternatives for water treatment/recycling, Johnson said. She predicted that the trend will continue across Pennsylvania. While the Pa. Dept. of Environmental Resources regulates most aspects of oil and gas development, EPA is responsible for underground injection. Johnson said the agency's primary mission is protection of groundwater. Companies must construct several layers of casing around the injection well and continually test its mechanical integrity. They also must cap old gas wells within the pressure-affected area.