View this email with images.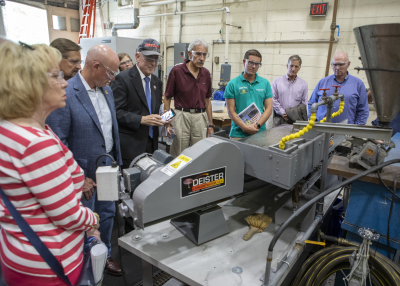 Capitol Update

Friday, August 12, 2022

The latest news from the State Capitol

Please do not reply directly to this email, as it returns to an unmanned account.
You are welcome to contact me through this link.




PA Must Be Leader in Critical Mineral, Rare Earth Industry





The House Majority Policy Committee, which I chair, heard testimony Tuesday about the importance of developing the critical mineral and rare earth element (REE) industry in the Commonwealth to help boost national security, minimize supply chain disruptions, create jobs and clean up the environment.

Critical minerals and rare earth elements are vital components of today's technologies, including computer chips, smart phones and touch screens; medical devices and state-of-the-art defense systems; and alternative energy sources such as windmills and solar panels.

However, the U.S. is 100% import reliant for 30 of the 50 critical minerals and at least 50% for another 14 of the 50 elements. China controls almost all global production of these minerals and elements. It also has a stranglehold over the processing of such minerals as they are transformed into the actual metals that go into the final product.

Leaders at the Penn State Center for Critical Minerals believe the legacy of mine production (abandoned coal mines, refuse piles and fly ash) in Pennsylvania makes it ideal for domestic production. This would result in significant job creation and environmental cleanup, as well as support national security and a more reliable supply chain.

Video and written testimony from the hearing are available at www.PAGOPPolicy.com.

Following the hearing, we toured Penn State's mineral processing facilities; coal utilization center and critical minerals separation lab; and Millennium Science Complex (MSC) microscopic facilities. Learn more about the university's work here.




Thank You for Coming!




Many thanks to everyone who came out for the Bradford Senior Citizens Expo last week! We had a great turnout of seniors and deeply appreciate the participation of our exhibitors and the support from our sponsors. If you weren't able to join us last week, our next expo will be at the Kane Community Center on Friday, Sept. 9, and the Roulette Fire Hall on Friday, Oct. 7. Both events run from 9 a.m. to 1 p.m.

Annual PIPP Picnic

Congratulations to Mark Cline, president, and Dave Hill, secretary/treasurer, of PIPP (Pennsylvania Independent Petroleum Producers) who were recognized for their service and dedication by receiving the Gary Hovis Memorial Award at the organization's annual meeting and picnic held in Bradford last weekend. I was honored to attend and speak at the event with my colleagues state Sen. Scott Hutchinson and state Rep. Kathy Rapp.

Mark Your Calendar for Kane Office Open House

Earlier this year, our office in Kane made a big move…across the street! We are now in the Northwest Savings Building, at 54 Fraley St., Suite 2. To celebrate the move, we are holding an Open House on Thursday, Sept. 1, from 4-6 p.m. No RSVP is necessary. I hope to see you there!


GOP Economic Policies Moving PA in Right Direction

Pennsylvania has moved from 23rd to 17th place in CNBC's rankings for America's Top States for Business in 2022.

This is great news and reinforces the value of our pro-jobs approach to governing the Commonwealth. That includes improving our technology and infrastructure, cutting taxes, investing in our education and workforce development systems, keeping state spending in check and planning for the future.

We continue working to get government out of the way of employers as we advance regulatory reform and relief efforts. We also gave voters a voice in successfully amending our state constitution to reassure Pennsylvanians and Pennsylvania businesses they cannot be unilaterally shuttered indefinitely.

While more work needs to be done, this report is proof Pennsylvania has rallied due to policies that welcome businesses and the jobs they create.




PA Budget Matters to You! Investing in Public Health, Safety



Ensuring the health and safety of all Pennsylvanians is a core function of government. That's why the 2022-23 state budget continues significant investments in support of that goal.

This budget will allow the Pennsylvania State Police to train two new cadet classes, which will add up to an additional 200 troopers to protect communities throughout the state. To reduce the trend of increasing crime and diminishing local law enforcement capacity, local police and law enforcement will also benefit from $135 million in one-time federal relief funds for local law enforcement support grants.

To improve access to mental health care in Pennsylvania, the budget allocates $100 million in one-time federal relief funds for a collaborative care mental health initiative.

To further ensure access to health care, the budget increases Medicaid reimbursement rates to emergency medical services providers to help them continue their life-saving work.

Recognizing the ongoing costs related to COVID-19 and workforce struggles, this budget allocates $250 million in federal relief funds to help long-term care providers, including nursing homes, assisted living facilities, personal care homes, and home and community-based services, as they strive to provide compassionate care to their patients. The budget also provides a $35/day increase in Medicaid reimbursement rates in nursing homes and increases the state supplemental grant for personal care home and domiciliary care residents by $200 a month, the first increase since 2006.

To help recruit more health care providers, the budget allocates an additional $35 million in federal relief funds to support the nurse loan forgiveness program, and increases the primary care loan repayment program by $1.3 million to provide 50 additional awards for physicians practicing primary care in medically underserved areas, which includes some of our rural communities.

I'll be highlighting other key initiatives contained in the budget in the coming weeks. You may also read more at www.PAHouseGOP.com/statebudget.




Vocational Rehabilitation Services Waitlist Eliminated



The Pennsylvania Department of Labor and Industry (L&I) announced this week it has terminated the waitlist for vocational rehabilitation services for significantly disabled (SD) and non-significantly disabled (NSD) individuals.

L&I's Office of Vocational Rehabilitation (OVR) assists Pennsylvanians with disabilities in obtaining and retaining employment while keeping their independence. Since 2016, nearly 370,000 individuals have received services from OVR, including vocational counseling, evaluations, medical diagnostic services, medical restoration services, employment training, placement services and career support services.

In eliminating the waitlist, OVR is lifting what is called OOS, or order of selection. When funds are limited OOS is invoked, and services are available based on levels of severity of the disability. For the last 28 years, only those individuals labeled as having a "most significant disability" were receiving services, while those labeled as having a "significant" or "non-significant" disability were placed on a waitlist.

Due to the decrease in economic activity during the pandemic, OVR has a surplus of federal funding available to remove the waitlist and use those unspent resources to serve more Pennsylvanians.

For more information on OVR services, visit your local OVR office or apply for OVR services online via PA CareerLink.




Grants Available for Environmental Education Projects



The Department of Environmental Protection (DEP) is seeking applicants for $900,000 in state grant funding available for environmental education projects.

The grants are available to schools, colleges, nonprofit community and environmental organizations, county conservation districts, and businesses, for projects that engage teachers, youth and residents in actions that help protect Pennsylvania's natural resources. Project examples may include tours, demonstrations and hands-on learning experiences, and workshops on stream monitoring, rain gardens, wetlands, green infrastructure and other watershed stewardship; solar and other renewable energy, alternative transportation and energy conservation; and improving air quality and community and municipal partnerships to address local environmental challenges.

Projects with a local focus may receive up to $5,000, and regional or statewide initiatives may receive up to $30,000. Projects that engage students and teachers at three levels, local, state and national, may be awarded up to $85,000.

For more information, click here.